In the Covid 19 pandemic, most small companies are searching for the right opportunities to survive in the competitive market. Among the current lack of options and greater importance on the digital world. Internet marketing gives value to small businesses and trying to extend their reach and sales. In this time of crisis, here are seven digital marketing tips for small businesses to successfully grow and survive in 2022
7 Digital marketing tips for small businesses
Create a strong presence in social media
Today direct face-to-face contact is currently limited, small businesses can use social media to target their audience. Social media is part of the larger set of marketing plans for small companies. Almost 88% of small companies use social media to reach out their customers.
Social media has been a useful part of many online marketing campaigns for different businesses and demographics.Overall demographics depend on social media for companies " Millennials (91%), Generation Xers(91%), and 85% of baby boomers use social media for their businesses .
Also, all generations are planning to use social media more in 2020, and behind 50% of millennials,31% of generation Xers, and 26% of baby boomers are preparing to increase their marketing campaigns.
Outside of social media, every generation is trying to spend more on the following channels:
Millennials use 80% email marketing,75% video marketing, and 50% online marketing.
Generation Xers use 73% email marketing,57% video marketing, and 59% online marketing
65% of baby boomers use email marketing,46% video marketing and 52% online marketing.
By the number of social media platforms out there Facebook, Instagram, Twitter, LinkedIn, etc. There is more than ever a chance to better communicate with your audience. According to big commerce, above 72% of customers claims that positive reviews and testimonials make them trust a company. Having well-planned social media strategies will make this trust easier.
Small companies can use Twitter to deliver testimonials of the customer to show potential customers what they can do. Social media promotes interactions, brand awareness, and did open communication.
These components build a level of personalization and trust with your customer base. During the COVID-19 Pandemic, small enterprises using social media will attract customers through spending more time at online and home.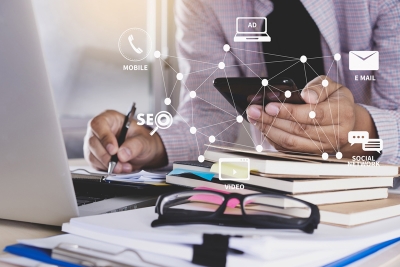 Using Email marketing strategies to communicate with customers
While some may claim that email marketing is outdated, but most small businesses have still use email to promote their brands and communicate with their clients.
54% of small businesses are planning to use email marketing as part of their digital marketing strategy.
According to Hub spot, almost 80 % of marketers agree that email marketing increases the retention of customers. Approximately 60% of the survey respondents claim that email marketing affects their purchasing actions. Email marketing is an essential tool for small businesses that want to extend their product reach and influence.
Expand effort on the website for marketing
Online visibility is particularly relevant for companies at this time and era. If your organization doesn't have any website, your appearance on your market is almost unreal.To increase the online presence, small companies no need to look further than their websites. To improve their business presence,56% of small businesses have invested in the website in 2020.
Web marketing is more focused on digital initiatives through internal resources. By developing online relationships, the promotion of websites is one of the most measurable tactics.With the help of website customers can easily trust of your business and they looks that the business is genuine and legal.
Due to COVID 19 pandemic, content creation will help small companies provide their customers base with relevant knowledge that affects their specific market. Relevant blog posts are the perfect opportunity for your company to have authority in your industry.
Small companies are increasing their online appearance to reach their customers .They making the transition as smooth as possible.
Online settings are constantly developing alongside the growing digital economy. With a personal touch, small companies can add some varieties to their websites by offering timely content with a personal touch.The traffic and engagement level of their pages helps to identify the areas to maximize the performance. It is the fast way to find out what's working or what's not working.
Start video marketing
Create an eye-catching video that can allow small companies to capture the digital marketing arena because the average customer spends 88% more time on videos than a particular website. Video is one the best tips to engage customers fastly. While more than half of customers want to see video content from their support brands, only about 32% of small businesses plan to spend more on video marketing.
Although creating an entertaining video needs more time devoted, many companies are using video marketing as a channel for visibility over this period.To produce a piece of video, you don't need any professional software. Small businesses can still make homemade videos that suit their viewers' needs and desires on a budget. A visually pleasing, short marketing video will do wonders for your engagement rate as more people work remotely and enjoy their spare time on their laptops
Find more opportunities for print marketing
Businesses or companies not only depend on digital marketing –but they also use traditional marketing methods such as Print marketing. Approximately 63% of small businesses use print ads as part of their marketing strategy. Print ads include direct mail, posters, flyers, and banners.
Sending a letter may look like an advantage, not a marketing opportunity. But using the prints ads, you get the name of your small business out there. Even the personal aspect of producing print material for your clients can go a long way towards gaining their trust and business.
Determine your business goal
Having an essential goal of estimating the effectiveness of your digital marketing activities can be the most relevant digital marketing tip of all.Before creating the marketing strategies, businesses must set out their prime digital marketing purpose. Most of the small businesses agree that their digital marketing strategies reach their goals and objectives.
More than three-quarters (765) of small businesses agree that their digital marketing strategies successfully reach their company's objectives.Small businesses need to concentrate on making sure that every dollar spent on an advertising campaign is achieved in the most profitable way possible. Small companies need to determine what they are committed to when it comes to their digital marketing activities.
Apart from helping their communities, small companies should look beyond that reach to a broader base. Starting with a particular target and carrying out this is the one method to create a digital marketing strategy for small businesses. Every company is different, and it is not matter your digital marketing objective.The main concern during this time is to keep your company together.
Use of in -house digital marketing resources.
Small companies use an in-house internal team to provide their organization with unique ideas for digital marketing. Apart from other responsibilities, most small companies depend on in-house workers engaged in digital marketing services. Only 15 to 16% of small businesses use their staff strictly for digital marketing.
Utilizing a team is perfect for digital marketing when companies are trying to save money during economic crises.These teams also know the best about digital marketing services With many digital marketing companies worldwide, it is remarkable that companies prefer to keep their in-house services.
Conclusion
As we discussed above, these tips help small businesses to create an effective digital marketing strategy. From social media presence to print marketing, these tips help the company grow its brand in the competitive market. Due to covid 19, most businesses had shut down, but some exist because they use digital marketing tips. Small companies need to create a perfect digital marketing strategy for a long-term purpose to survive in a competitive market.