In this blog, you will learn how to set up Facebook pixel and why it is important. First of all, Let us know what is Facebook pixel. Facebook has a tool that can be used by any website owner to track and learn about the performance of their Facebook ads campaigns. The Facebook Pixel will tell you information such as how many people opened the link to your site, what time of day they did it, and for how long. With this knowledge, you'll be able to do your marketing strategy to make sure that it's effective!
Facebook pixel is a code used to track your advertising effectiveness by looking at what people do when they visit your site. The pixel can be used to: Ensure that the right individuals see your adverts.
Pageviews
Time on page
Scroll depth
Add to cart
Purchase
And more
Also, We can use it for remarketing to people who have done a specific activity or visited a particular page on your website.
In short, the Facebook Pixel is as follows:
Lives on your website
Tracks visitors as they engage with your pages
Allows you to create bespoke retargeting audiences
And allows you to track the ROI of your Facebook and Instagram ads
Facebook pixel allows you to gather valuable information about your visitors by placing a tracking code in the top of your website. This code allows the social media site to anonymously track your visitors and tailor advertising specific to them.
Types of tracking codes are available for your website
We can add Facebook trackers to your website, in order to gather data on how people are interacting with your content. They have three main types of tracking codes that you can use: Custom Code, Javascript, and Third-party Tracking Code. The Custom Code option allows you to enter any custom code that you would like into the tracker. This is useful if you would like the data to be specific to only viewers within a specific region or those who have a particular status. Javascript adds a tracker that runs whenever someone visits your website, while Third-party Tracking Codes do not require a person's browser to be open. These codes are placed in a visible location on your website and don't run until someone has visited it for the first time.
How to set up Facebook pixel
You can set up Facebook pixel by following these steps:
Create a Facebook pixel: You'll need to generate a Facebook pixel first.
Go to your Facebook Events Manager.
Select Connect a Data Source > Web from the drop-down menu.
Select Facebook Pixel to proceed and click Connect.
You can add pixel details after that.
How to set up the Facebook Pixel to Your Website :
You can integrate the Facebook pixel in three ways
By installing the code manually
By using tag manager or integration
And, By emailing the instructions to the developer to install the code manually.
Manually install the code yourself.
Facebook pixel is more effective when it is placed on every website page. You don't need to add it on all website pages; you have to add the pixel code in your website's header, i.e., <head> </head>. Click on Save Changes after pasting the Facebook pixel code in the middle of the header code, between </head> and head>.
Use integration or Tag Manager.
Open your google tag manager account, and log into your account.
Click in Add a new tag after selecting your website's container.
Select Custom HTML tag by clicking on it and giving your tag's name.
Visit Events Manager and choose Add Event.
Choose Install code manually.
Choose Copy code to copy the complete pixel base code.
Return to Google Tag Manager and paste the code into the HTML container.
Click the Advanced settings drop-down and select Once per page under Tag firing options.
Under Fire On, select All Pages.
Click Create tag.
Generate tags for your website's other events in the same manner(e.g. add to cart, purchase). Consider the following examples.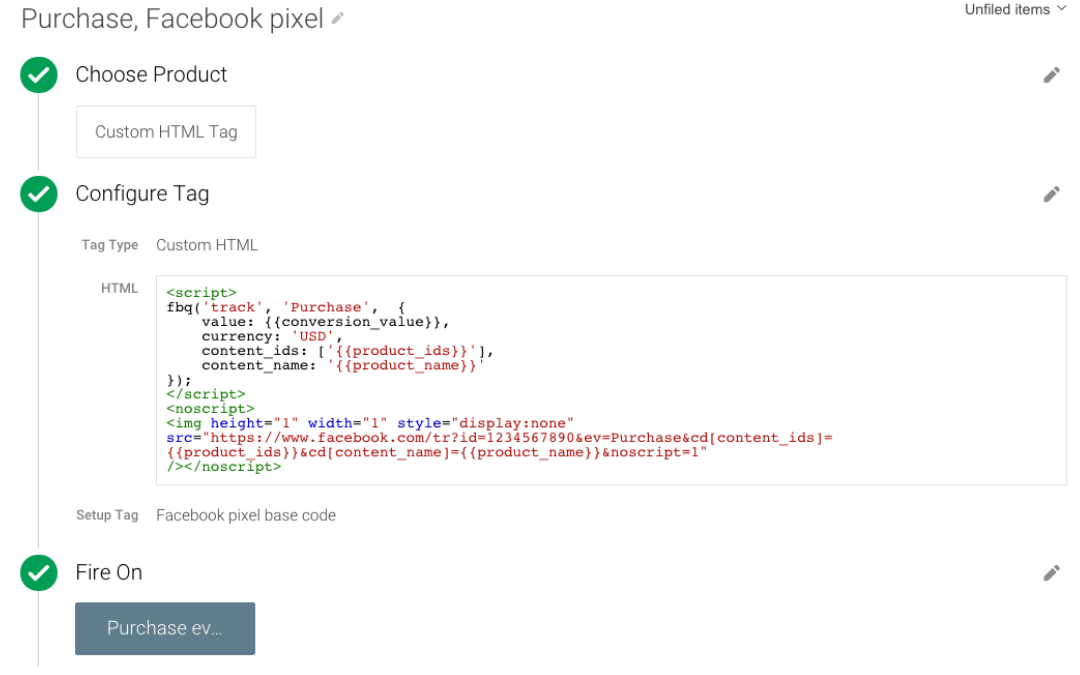 Click Publish once you've completed generating tags.
Email instructions to a Developer
You can also mail the instructions regarding adding the pixel code to your web developer. If you have a web developer who maintains your website, this is the best option. Select email instructions to a developer from the drop-down menu and type your developer's email address.
After uploading the code, you must verify if the pixel code is working accurately with the Facebook Pixel Helper.
Facebook (Social Media Platform) Pixel Helper also warns you of issues, letting you restart the installation procedure and ensure that everything works perfectly.
How to Use Your Pixel for Ad Targeting
You can start customizing your target audiences after adding your pixel. It's a relatively simple procedure.
Select Website Traffic when building a custom audience. You can now target folks who have recently visited your website and have a Facebook account. It is a wonderful approach to retargeting visitors who have left your website without purchasing; There will be more chances to click on your ad and buy something if it's relevant to your target audience. if they see it again.
It isn't the end of it. You should make use of sophisticated targeting options. You can target users who have visited specific websites with adverts (or sets of web pages). If you put up for sale pet products, i.g. you can make two ads: one for those who looked at your dog products and another for people who looked at your cat products.
You can also filter out persons who have visited specific URLs. For example, if you want to directs the subscribers to a thank-you page after signing up, you'll want to ensure that your ad isn't shown to those who visited the thank-you page because you already know they've signed up.
Conclusions
The Facebook Pixel is an in-page pixel that can help you track visitors on Facebook and see what they like on your website. It only takes 15 minutes to set up. One of the best things about using this tracker is that it allows you to create a custom audience, which makes it easy to send targeted ads or promotions to people who are interested in your product.
Using a Facebook Pixel on your website can help you take advantage of the social media giant's advertising tools. The benefits include targeted ads and enhanced conversions, which means your site will be more likely to convert potential customers into actual ones. The Facebook Pixel integrates with the website for integration and measurement of marketing performance on Facebook.
Facebook Pixels are HTML tags that can be added to a webpage. They allow you to create custom audience segments and track your website's performance across the social media platform. For example, if you have a website about cars, you might want to add Facebook Pixels to the homepage. Once it is on the homepage, that means that visitors who come from Facebook will see your car-related site when they navigate through Facebook Ads Manager.