This blog will let you know how to start a blog on Facebook an earn money. As everyone knows, Facebook can be a tremendous marketing tool for both types of businesses (i.e. large and small businesses) if utilized appropriately. One of the marketing possibilities it provides is Facebook blogging.
Blogging is the internet-based self-publication of writing, photography, and other media types. Blogging started as a way for individuals to express themselves by writing diary-style entries on the internet, but it has been integrated into the websites of many businesses. On Facebook, there are two methods to blog. The first method is to use Facebook posts, which are great for brief messages. The second approach to writing directly on Facebook is to use Facebook Notes, which allows you to make essential yet appealing lengthier blog articles that are easy to read for your followers. Facebook Notes is a simple method for people to begin writing and increase their Facebook presence.
In this blog, the points covered are:
Why You Should Start a Blog on Facebook
How to Start a Blog On Facebook
How to Make Money Using Just Facebook
Conclusion
Why You Should Start a Blog on Facebook
Blogging on Facebook is a profitable deal for everyone. It lets you communicate directly with your existing fans and followers and effortlessly grow your community over time. Second, Google is a big fan of social media, particularly Facebook.
Starting a blog significantly influences your ability to write, which is self-evident.
A few reasons are there why you should start a blog:
1. To motivate your audience
2. To increase your skill to write
3. To develop your internet brand to gain new skills
4. To face down your fears
5. To earn money and to meet new people
6. To keep a record of your life
7. To get the job of your dreams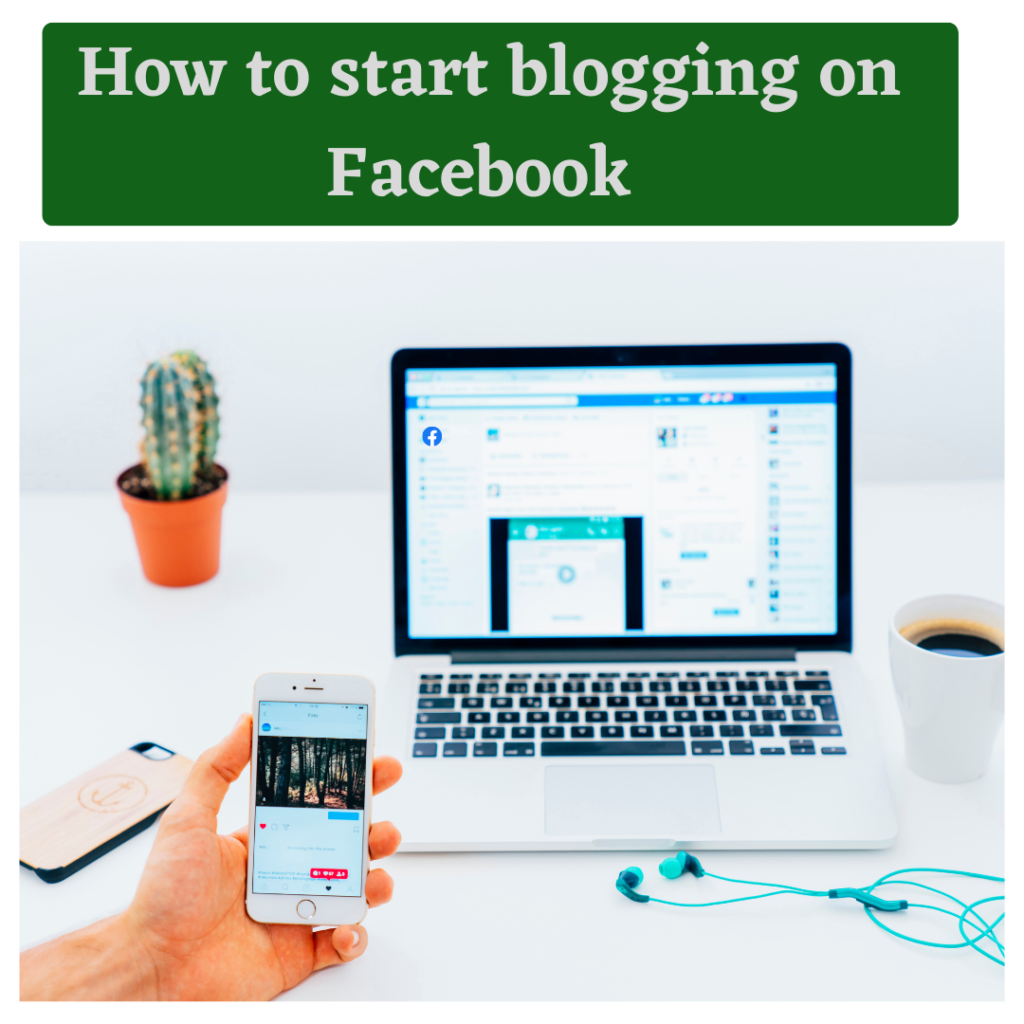 How To Start a Blog On Facebook and earn money
Although there is no direct way to create a blogging website on Facebook, there is a method for starting a blog and earning money from it.
Let's have a look at one way to start a blog. I'll let you know the steps one by one, so stick with me to the end.
Creating a Personal Facebook Account
You may start writing on Facebook right now by utilizing your profile! However, if most of your friends are not in your desired demographic, you may wish to create a new Facebook account. So you may make new friends who are part of your target market, and your posts will be more relevant to them. There is a limit to adding friends; up to 5,000 friends can be added (though followers can be unlimited).
Getting Started with a Facebook Business Page
Using a Facebook company page is another option. The key benefits of utilizing a Facebook page over a personal profile include the ability to promote your postings via Facebook advertising and access to a more extensive range of page-only features like e-commerce, analytics, and appointment setup tools, among others. If you plan on doing this for a long time, this is the best option.
Making Use of a Facebook Group
The third option is to use a Facebook group. The most significant benefit of creating a Facebook group is that it allows you to create a community and enable others to add stuff to it. It can be the appropriate solution for you if you know how to do it well and operate a Facebook group with a high degree of involvement.
You may also use a combination of any of the above (recommended) and share posts across the different accounts, reaching diverse audiences who engage with your blog differently.
How to Make Money through blogging on Facebook
There are three ways to start a blog on Facebook and earn money:
By Selling Your products
You should consider starting an e-commerce business on Facebook if you know how to source or produce your items. Facebook pages now include e-commerce tools that allow you to sell products straight to customers. You might consider launching and opening an internet business once you get sales. One of the most acceptable industries to start a business in is e-commerce.
Your Services Can Be Sold
What if you don't have a product? Why not offer your skills and start working as a freelancer? This is perhaps the most significant and straightforward way to earn money online for novices. You can provide services such as digital marketing, consulting, virtual support, etc., that you can deliver online. There are generally no beginning fees, and with only a few clients, you may rapidly create a full-time income. Some of the most excellent freelancing websites can also help you acquire new clients (for example, online freelance coding employment).
Offer Other People's Goods or Services for Sale (Affiliate Marketing)
If you don't have any items or services in mind, selling other people's products or services may be an option. Affiliate marketing is the term for this. When customers buy things using your unique link, you get paid a commission percentage of the sale. You may also sell ad space if you build a large following and establish yourself as a Facebook influencer.
Conclusion
If you sell information items, Facebook Groups might be beneficial. You may form a group and encourage members to assist one another and share ideas.
So, if you want to generate money on Facebook with your page, you'll need to develop and distribute valuable material on your Facebook blog regularly.
Also, It would be better to start your blog than work on Facebook as a blogger. You can create your blog, and later, you can use Facebook to monetize and get traffic to your blog.