This article will let you know the do's and don'ts of instagram.
Instagram is a great platform for branding, visibility of your company, and growing your presence. You can organize and share photos or videos to give visitors a visual experience of your account.
"On Instagram, 60% of individuals claim they found new products." It's a great way to establish and communicate your brand online without worrying about anything. By uploading interesting photos and videos, you can appeal to and engage with the people you want to target. With over 700 million monthly users, Instagram is a fantastic marketing tool for any business.
Last year, Forums introduced new business features, including more advertising options and more accurate reporting data. However, certain protocols must create content to engage your audience and promote organic growth like every social media platform. We live in busy times, and as marketers and business owners, we have more platforms than ever before to interact with customers. When we're busy, it's easy to get self-satisfied or make mistakes that go unnoticed.
Here is a list of do's and don'ts of instagram to help you get the most out of your Instagram for Business account.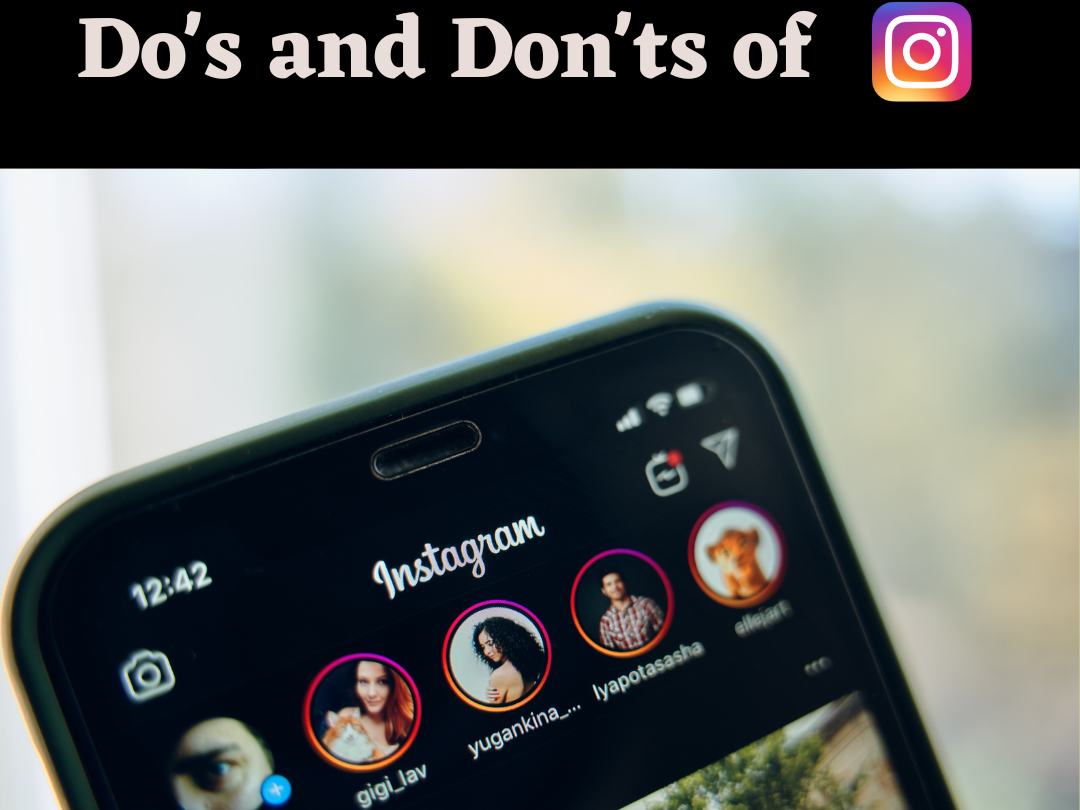 Do's of Instagram:
Use relevant hashtags –
We use hashtags for search which gives you the option to reach new people. Consider how people might discover your content when choosing a hashtag for your next article. Instagram entitles you to use up to 30 hashtags, so make the most of them.
Try to be consistent–
Keeping an Instagram profile up to date and in line with all your social media activities can be exhausting, and you may feel compelled to quit. But, there's no such thing as an overnight success, so it's the only option. Becoming a successful Instagram user requires hard work, dedication, and discipline. And keep up the good work! Yes. It's about finding your progress and sticking to it.
Make Use Of Highlights-
Instagram Stories highlights are a great way for businesses to promote and showcase their products. Since your highlights feature prominently on your Instagram profile, they are ideal for introducing new visitors to your brand. Highlights are a useful tool for organizing your articles into "folders." To stay on brand, include a cover photo.
Use Your story –
Posting a story is a great way to break from your carefully crafted, on-brand feed and show another side of yourself.
Ask questions in your comments-.
You will need to force yourself to connect properly with your audience. Incorporating a call-to-action is one of the best ways to improve your copywriting skills. This involves persuading your audience to take action. There's something for everyone, whether visiting your website, touching hearts, or answering a question in the comments section.
Add a Location –
Adding a location to your profile makes it effortless for you to reach your potential customers and for users to find you. It also assures that your content shows up in more searches – but consumers may not follow the same places as they do with hashtags right now.
Make sure your photos are in focus and attractive
You want to make sure that you are putting your best foot forward in these images because they represent your company and brand. You never know when someone might stumble upon your channel, so make sure each shot makes a great first impression! Also, make sure your photos are clear and won't look grainy when viewed on a large screen like the iPad.
Get in touch with your followers –
While social media can be used to express oneself, it can also connect with friends, family, and fans. Tell your fans that they are being listened to their queries. Please give them a like, follow, or comment to express your concern.
Quality over quantity –
When you prioritize quality over quantity in your life, you will see better results. You are noticeably happier and more accomplished because you focus on substance and depth rather than numerical value. It is how you can lead a happier life.
Don'ts of instagram:
Don't set an account to private

Only people who follow you will be able to see and interact with your posts if you make your Instagram account private. Even if you utilize well-known hashtags, your posts will be hidden from those searches. This also implies that anyone who isn't a follower but would like to see your content should request to be followed.
Don't post low-quality Photos
Image compression is the most common cause of quality degradation. Here's a brief description of picture compression for those who don't know it. In a nutshell, Instagram is all about compressing images to reduce file size. After all, People upload millions of photos every day.
Don't overuse filters

People use filters to adjust the colour of a photo, but filters have now evolved to change a person's overall appearance. New filters alter the structure of a person's face, lips, and eyes, giving them an uncharacteristically flawless look. After correction, the original photographs no longer resemble the final product.
Don't Spam or be spammy
Don't comment on other photographers' accounts and request that they follow yours. It seems frantic and untrue. It's one thing to communicate with other accounts in a real way, but it's spam when you leave comments looking for followers.
Don't post many photos in a row
When uploading multiple images to Instagram, many things can go wrong. Many images may not be published because of a problem with the most recent app update, an unstable Internet connection, or issues with the app on your specific device.
Don't pay for followers or likes
It may initially sound tempting to increase your followers and likes count, but it will only hurt your account. Instagram will deactivate your account if you do this, but you will also get ghost/bot followers. Fake accounts that never connect to your work are ghost followers, resulting in an imbalanced ratio of followers to likes. It's obvious when someone has thousands of followers but only 50 likes on a photo.
Too many photos of the same thing 
Avoid publishing more than three photos from the same location: If you regularly share 15 pictures of individuals in your account, you risk irritating your followers, who may unfollow you. Huh. Also, if you're posting live from an event, make sure you're using hashtags.